the overnight stay with scott and kendra was nice. i hung out and talked with them after i got there, then again in the morning. i had forgotten i'd met them in houston once before, probably a few years ago. they also knew odd bits of trivia about me, like that i don't salt my food. (i figure i should eat it the way the cook prepared it.) evidently this is something that sticks in sue's mind. scott is pretty interested in the mennonites, which i don't know much about, but the desire for simplicity sounds nice.
i left around noon and immediately stopped at a sheetz for an m.t.o. ("made to order") because they told me jack would be disappointed if i didn't. i called jack while sitting in the parking lot to let him know where i was. i also talked to my brother and he asked if i was going by gettysburg. i looked on the map and it was only about 20 miles away.
i took 30 over to gettysburg and stopped at the first visitor info place, but it was mostly a driving tour and could take a couple of hours depending on how long you took. since i was by myself and wasn't sure how long it was going to take me to get back to houston, i decided to just sort of drive through the town and by some places. i'll have to go back sometime when i feel i have more free time, and hopefully with someone who is interested in civil war history. i mean, it's interesting to me on some level, but i'm not real into it so it'd be better if i were with someone who could talk about it while we were going to the various locations. shifting a bit, gettysburg appears to be almost completely dedicated to the civil war history of the town. i'd think that'd make it sort of an odd place to grow up and live in.
after my very short trip through gettysburg, i headed down 15 into maryland, then 340 or something through a bit of west virginia around harper's ferry and down into virginia to shenandoah national park. (sidenote: dr. pepper berries and cream is nasty! how did i forget that?) i headed to the park so i could take skyline drive. because what's better than rapid twists and turns at decent grades in a 40+ year old truck with no power steering or power brakes that you've only been familiar with for about 300 miles? it costs me $15 to get in, but i could come and go for 7 days. it handled everything fine and i managed to take some pics. so without further delay, here is the unveiling of my new truck…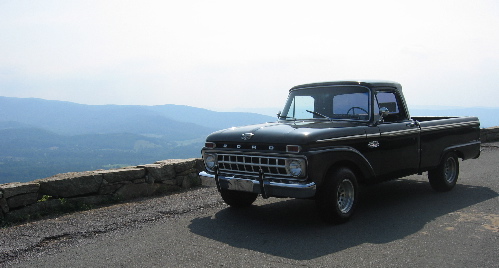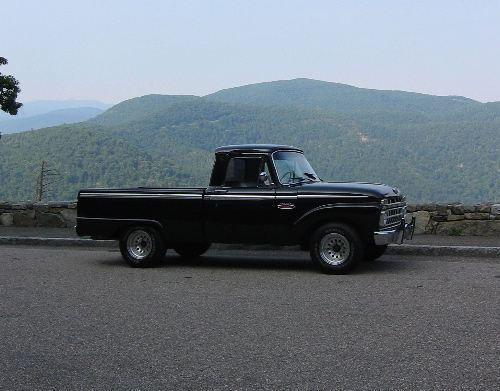 i had originally thought i might try taking skyline and the blue ridge parkway as far as they go, but after 65+ miles i decided it'd take me 2 weeks to get home at this rate, so i bailed on 33 and hit i-81 to try and make up some miles.
it was getting late and i was getting tired, so i decided to look for a motel 6 to stay at or a waffle house to eat at. (i figure every big road trip should have at least one stop at a waffle house.) the travelling gods of cheap motels and cheaper food were smiling on me, as i found an exit that had both. as always, the waffle house was an interesting collection of people. that goal accomplished, i headed to bed. miles today: around 400.