here are a couple of pics taken during the live broadcast I was doing on ustream.tv Friday evening from the top of a parking garage in the medical center. thanks to glimsmack for capturing the images for...uh...posterity...I guess.
here's what the scene looked like: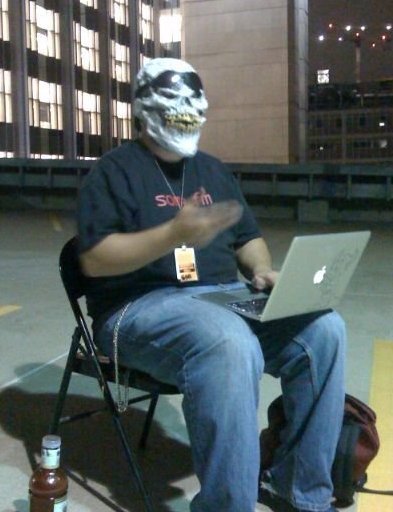 and here's a (digitally smudged) image of the badge I was wearing: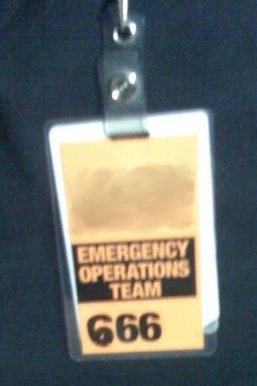 well, at least we were entertained.
last night I had a few shots of patron, wrote a few pages of thoughts in the dark, and then fell asleep. the temperature was nice - even a bit cool - but I still didn't sleep that well.
we were supposed to go to work today, so I dutifully went. not much of anything got accomplished, although we did get to compare hurricane experiences. most people seemed to think they had had enough of a hurricane experience. I, however, still wanted more. (they seemed to find that odd or perplexing.) the company provided free pizza for lunch. at the end of the day, i left work and came home, took a nap, then went and ate at the house of pies. now I'm home again. still no power. so this is from my iPhone.
this is getting old. and by "this" I don't mean not having power. that's kind of annoying at times, but it's not that big of a deal. sometimes I just get tired of trying, of keeping on for the sake of keeping on. doesn't sometimes it just sort of feel like maybe life doesn't have anything more left in its goody bag? maybe it's just me. maybe I'm just not cut out for making the best of things. or seizing opportunities. or creating my own opportunities. or even just making due. I'm like woody Allen in his movies, except I'm not even funny. (some would argue he's not funny either.)
anyway. I'll shut up now, instead of giving other people fodder for worry, derision, pep talks, or whatever. (and I'm not going to approve comments about any of this last stuff so don't bother typing it. humorous comments excepted, of course.)