i think i've mentioned on here before that i'm a fan of tara mcpherson's work. i'd probably seen some of her stuff in the past, but the piece that really caught my eye some months back was one on the gelaskins site (they sell artist's work as "skins" for laptops, phones, etc.) this particular piece was titled "hey we all die sometimes". from that gateway, i went searching for more of tara's work and learned she did a lot of poster prints for bands, comic work for dark horse, vinyl toys, etc. i picked up a book called lonely heart printed by dark horse of her work. there is a second book out called lost constellations, but i haven't gotten around to getting it yet.
anyway, i really liked "hey we all die sometimes". she released a 100-print run, but while i was trying to decide about spending the cash the status went to sold out. another shop in england (clickforart.com, which has some cool stuff) was selling a 250-print run of boxed canvas prints (along with throw pillows, etc.), but they were shipping from england so i was trying to decide on those. right before i bought a canvas print from clickforart, i went back to tara's site and they had more of the 100-print run available. i decided to go ahead and get one while i still could. diesel fuel prints does this one (as well as most of her others, i believe). it's a giclée print on german etch watercolor, 26″ x 18″, edition of 100, coated with a uv gloss varnish. it arrived yesterday evening. i got print 61/100. here it is: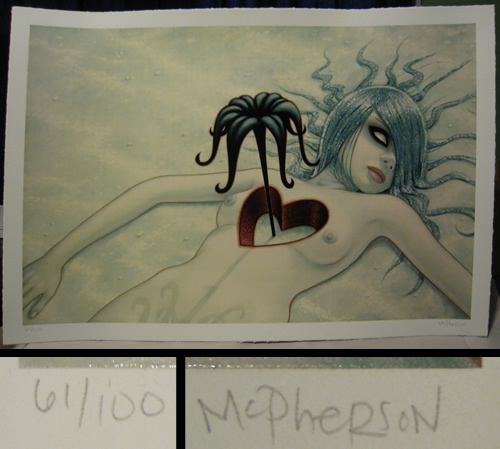 there are one or two other prints i've been looking for by her that were done in limited runs a few years ago, but they're kind of hard to come by. perhaps one of these days.