last sunday i ate with sue and simcha at macaroni grill. i used to enjoy eating there, but almost all of them closed. the only one i know of now is the one on westheimer out past the galleria and chimney rock. i really like their building design a lot. if i were building a house from scratch, that style would be a hot contender: slick concrete floors, light-colored rock walls, tall narrow windows with dark green wooden shutters, open rafters/framing.
monday the mechanic called me and was asking me about radiator hoses, and said he thought he'd be starting up the engine the next day. the next day he called and said he ran into a problem — he couldn't shut the hood because the a/c condenser in front of the new radiator was hitting the hood latch and striker. i don't think that should be the case since the kit i bought is made by a guy who only makes and sells them for tri-five chevys. in fact, he himself mostly works on '55's. i ended up giving the mechanic the number of the guy who makes the radiator kit. i figured the mechanic would call me back that day or the next, but i haven't heard from him. so now i'm wondering what the status is of my car. i originally thought i might get it back before this weekend, and i was planning on taking it to austin to visit my brother and his family and my parents — but that didn't happen. so i ended up not going to austin this weekend.
these headlines were on google news on thursday, which i thought were kind of funny:



friday was a maintenance evening at work, so i had the daytime free. i used the time to drop by the tax office and take care of a couple of things. since i was going there anyway, i paid my registration on the belair. i also returned the generic plate from my harley and replaced it with the native Texan vanity plate that had been on my honda vtx1300c. i'm happy to not have a randomly generated license plate anymore. and i finally got around to fixing the title on pickup. when they typed it up, they entered "tetrry" or something instead of "terry". i'm pretty sure i should have been able to have it fixed for free, but the lady at the window just told me to submit a correction form so i paid $33 to have their mistake corrected.
earlier this week i finally broke down and did something i've never done: i paid for some form of electronic media. in this case, i paid to rent a couple of movies from itunes for my apple tv. every week apple puts three movies up for 99 cent rental. i figure 99 cents is fair, considering it would cost me a buck a day to rent from redbox. they also have the rule that once you start watching it you only have 24 hours with it…but you have 28 days to start watching it before it expires. so that's good and bad. i wish they gave you two or three days. that might at least help justify their normal rental prices. but for 99 cents, it's okay. so what movies did i rent? american heart and saved!. i've already seen the latter, but figured for 99 cents i could watch it again. the first i'd never seen. i watched it a day or two ago. the video quality was okay, audio was fine. the story is set in seattle, where a guy is just getting out of prison and has plans to move to alaska to start over. but he has a 14 year old son, and the son wants to be with him. they're both in bad positions in life, both trying to do better, but as is often with real life things just don't work out too well. not an uplifting film, but a decent story. as far as my apple tv/itunes renting experience…to be honest, it was pretty convenient. but i don't see myself doing this for anything but the 99 cent ones, or if i'm really desperate to see a movie within an hour or two and i can't get it from redbox or via netflix streaming.
saturday afternoon i went by taurian and had byriah put in my 4-gauge hoops. they're not captive hoops, but they made them sort of look like it. instead of captive (where the ball has recesses on each side and the wire "pinches" the ball to hold it in place), the ball screws onto one side of the wire, leaving a small gap between it and the other side of the wire. i took a couple of blurry pics by myself with my iphone: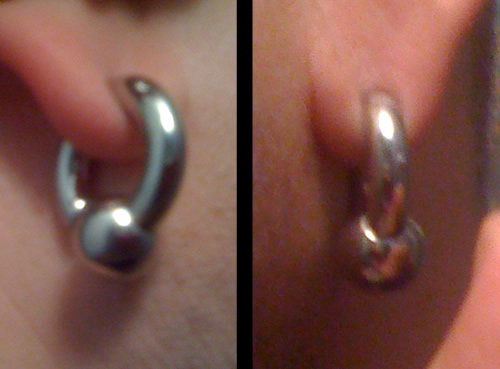 in the evening, sue came over and we went to the continental club. sue wanted to see sara van buskirk play, so i accompanied her. (jack was shooting a wedding.) it'd been a long time since i'd gone to the continental club, or really gone out much at all to bars. i still generally don't like the "let's be wild and crazy and zany…and drink…and be loud!" scene. it's not a party or a good time for me. i'm there in spite of that, not because of it. of course, the fact that i'm not enjoying the main reason most people go probably doesn't help with my opinion toward it all. my usually going alone, and not really talking to or meeting new people, probably doesn't help either.