friday evening was a maintenance window evening. the rest of my weekend seemed to involve being tech support for other people. *grin* saturday i went by republic harley and picked up my 2nd key and security fob, then headed to the potts' house. i ate supper, watched snl, then reconfigured jack's linux server so it would work on his home network. sunday i met kelli at antidote and tried to get safari working on her apple ibook. i eventually decided something was messed up with a corrupted update or something, as i couldn't get software update or safari to work. i tried reinstalling the 10.3.9 update by downloading the package from the apple site, but that didn't fix things. eventually i installed firefox 2 and told her she could use that as a workaround. the other suggestions i saw for fixing the apparent problem involved arching the account(s) and reinstalling the os. ick. from antidote and kelli, i drove over to the nova lair (jamie/amateria's place). i helped her re-set up a wireless router, as well as test some stuff and move a desktop. i then ate supper with her and her kids. and thus ended my tech support weekend.
monday after work i stopped by soundwaves and purchased a few albums:
loud and plowed and…live!! – beat farmers (curb)
the bird and the bee – the bird and the bee (metro blue / blue note / emi)
ratatat – ratatat (xl recordings)
we are pilots – shiny toy guns (universal)
tuesday when i got home my package from an online seller of harley junk was waiting for me. i immediately got to work on replacing the stock console on my 2009 harley fatboy. besides the seat, the stock console and tank bib were the things i liked the least about the bike. to me, the bike is mostly rounded and smooth — then all of a sudden you have this art deco type console piece, all sharp edges and flat surfaces and 45 degree cuts and clock tower -ish. plus it has a pebbled surface on most of the face. it just doesn't seem like it fits to me. as for the tank bib…well, it went with the stock seat. and the stock seat already left my bike. so here's a before and after, side by side for comparison: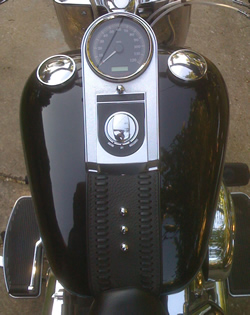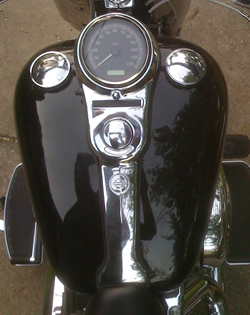 today i loaded the iphone 3.0 software. i had some network troubles, then the iphone activation server kept not responding. i tried numerous times over an hour or two. finally i read in a comment on a wired magazine blog entry that if you disconnected your computer's network after starting the update but before it actually tries to contact the activation server, it would do the update. i tried that and it worked. of course, then i had 30 minutes to an hour of being worried i'd bricked my iphone since itunes kept complaining that it couldn't communicate with the iphone and the iphone seemed to keep rebooting. eventually things got sorted out and the 3.0 install was a success.
i've not played with it a lot yet, but being able to select and send multiple pics at once is nice, the copy/paste/delete seems pretty slick, and the landscape mode in more apps is cool. a couple of things not on the main marketing list that i liked: notes synchronization, adding who did the calling
and how
to the "recent calls" and voicemail lists (so you know quickly from the list if they called from home, mobile, etc.)