well, here are a couple of pics i took of my new fatboy not long after i got it: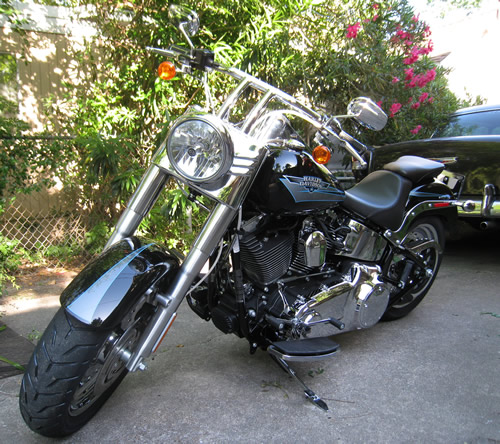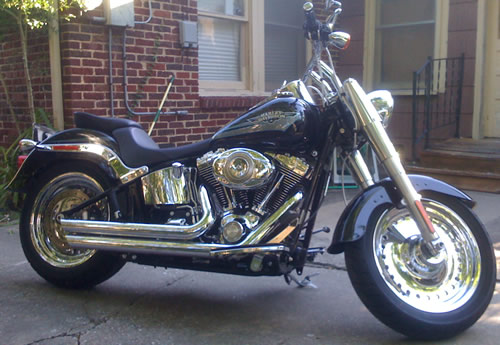 a 2009 gloss black harley-davidson fatboy. factory options on the bike included the chromed versions of the rims and the security piece for the ignition. i replaced the stock seat and passenger pillion with the "brawler" versions. they're basically narrower and thinner. i replaced the stock pipes with vance and hines staggered bigshots. they sound good, although i don't think they're as loud as the hard krome k-2's that were on my honda vtx1300. and i replaced the stock buckhorn/beach bars and risers with a t-bar (drag bar) with integrated risers. oh, and different handles and brake/clutch levers, as well as braided cables.
within a couple of days of getting it, i let brad and jason know i'd gotten a new bike. pretty soon brad asked me to go riding. i spent several evenings that first week or two riding around with him, going from hang out to hang out, drinking, eating, etc. one night we hung out on his porch until 2:30am, another we picked up a new friend of his and all three of us rode around downtown and midtown. the break-in period is 500 miles, so i was trying to get street driving so the rpms would be well-distributed. i've been riding it to work pretty much every day, and most days i ride around at least a bit in the evening. i crossed 500 miles on sunday or monday.
i'm still trying to get used to having foot boards instead of pegs. i'm trying to give them a proper chance. but so far they are still sort of awkward to me. i've yet to use the heel shifter, although i haven't taken it off yet either. so far the only thing it's been good for is catching my pants leg when i go to put my foot on the ground.
friday night was the geek gathering. it was a pretty impressive turnout. i popped across the street to spec's before they closed and picked up a couple of cigars (cohiba vanilla and tatiana cherry cream, i think) and smoked them during the gathering. there was an interesting girl who works at the place. she had a banner tattoo across her chest, so i asked her about it and she showed it to me: "per aspera ad astra". i recognized it as latin, and knew "ad astra" meant "to the stars" (that aerospace background finally paid off!), but i didn't know the rest. she said it was a quote from seneca the younger (aka seneca, a roman stoic philosopher) and means "through difficulties to the stars". after she got off work she hung out at the table with kojo, jamie, and myself, until her boyfriend showed up. i ended up staying out until 3am or so.
saturday i ate at einstein bagels, where i was joined by the potts. i then gave sue a ride to her house on my bike, as i was headed to the harley dealer to pick up my real plate (yea to getting rid of the paper temp tag!). the dealership couldn't find my 2nd key and security fob after i bought the bike, and they still hadn't by this past weekend. so they were supposed to be ordering new ones for me this week. they also adjusted my throttle cable while i was there, as it had a lot of play in it. (but within a couple of hours it got play again…although not as much as before. i wonder how much more it can be adjusted before it needs to be cut?) i also described a rattling i started hearing in the front end when i hit bumps during the second week i had it. they said they would look into it during my first oil change.
later saturday evening, jamie got me to go to the caronline collective one year anniversary party. in addition to seeing jamie, jay, and groovehouse, i also ran into a couple of people i hadn't seen in awhile, met a guy i knew of through numerous friends but had never actually met (turns out he has even worse stories about chris seay's ecclesia than i do!), and re-met a guy who i'd met some months back once at onion creek when i met some people there for lunch. (he was surprised when, while talking to jay, he learned i was phliKtid.) i stayed at the party until maybe 10:30pm or so, then jamie and i left and ate a late supper at brasil.
i bought a couple of cds off ebay, which arrived recently:
expo2000 – kraftwerk (emi)
tangent 2000: disco nouveau – various (ghostly international)
and i've picked up a couple of books:
anna karenina – tolstoy (everyman's library)
shine on: 100 years of shiner beer – renfro (bright sky press)
a week or two ago i ordered some accessories for my new motorcycle. hopefully they'll be here within a couple of weeks. i'll detail that more after they arrive. i've still got a few other changes i want to make to the bike, even once those are in.
i still haven't gotten around to verifying my '55 bel air engine choice with the mechanic and getting that work started. i really should do that.
and i still am planning on putting together an entry about my shopping and buying experience at the harley stores.