this is just to make the ex-pats cry…
guadalajara enchiladas from sylvia's enchilda kitchen. along with iced tea, and chips and salsa. these enchiladas are pulled chicken with a spicy salsa roja, then topped with lettuce, tomatoes, and a white cheese.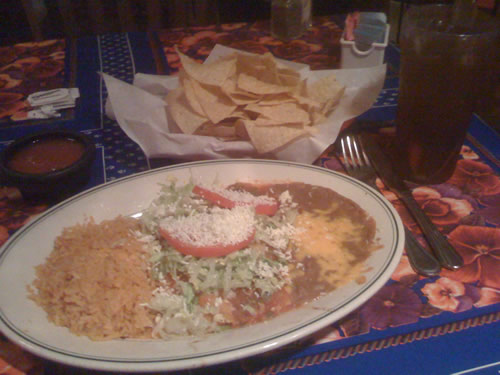 i actually took this picture on may 9th, the last time i was at the sylvia's on westheimer.
this past sunday, linc called me and let me know he and heather were in town to watch the astros/rangers game. afterward, they came by and picked me up. since they didn't know the area they let me drive their vehicle, so i got to have a short reunion with ye olde element as well. we went to sylvia's for an early supper. …but that was the 24th, and i just said i hadn't been since the 9th — so how is that possible? (very observant, you are!)
because we didn't go to the original one — there is a new one! it's about half the distance from my house compared to the original one, so i was hesitantly excited. unless the main sylvia's changed their menu, the offerings at the new one are pared down a bit — they didn't have the guadalajara enchiladas (as pictured above) or sylvia's tortilla soup (although they had tortilla soup, but the original location has two styles of tortilla soup). unfortunately, those are two menu items i tend to order a lot. the food was about the same as far as i could tell. they serve their salsa warmed, and if you buy some queso and dip your chips in both the salsa and the queso…well, i think it's divine. i had the el paso: three stacked (as opposed to rolled) enchiladas. i chose ground beef with a chili gravy, plus a fried egg on top. the new place had a little different style than the original…more Texas ranch house than mexican, to me. and the clientele seemed more wealthy and white. but that may be because of its location (6401 woodway).
so it's nice to have one closer, but the original still has more draw for me.
at the end of the meal, heather suggested they get some coffee before their drive since miles has recently started rising at 5am. i suggested we go to a coffeehouse instead of getting coffee there, so i took linc and heather over to brasil. we sat for awhile and had some coffee, then we came back to my house and they were on their way.