okay, first off let's get the obvious one out of the way. last week on friday i went to the optometrist and had my eyes examined. he said my eye health was good (good pressure, no glaucoma, no cataracts, good retina, etc), but i had an astigmatism (honestly, i didn't know there was an "a" at the front of that word until i was typing this entry) in my right eye and my overall vision was about 20 40. after the exam i looked through their frames, which are all pretty much thin rectangles or ovals these days (at least where i was). i tried some different ones on, but in the end i made a pretty conservative choice. (and actually got several comments from people at work that they were surprised i got something so…normal.) i went ahead and sprung for the transition lenses, since i'm not used to carrying glasses around and really didn't want to be carrying two around. all that said, here's a pic of me with them on: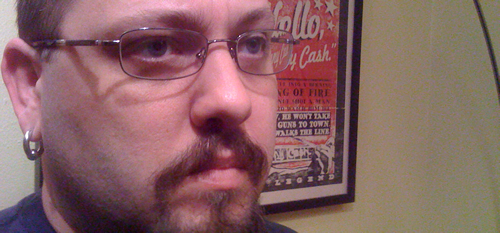 i unfortunately sort of needed to capture my face and eyes in order to get a picture of me with the glasses. (the look of concentration on my face is me trying to get both myself and the johnny cash poster somewhere in the picture by looking at the screen of my iphone through a reflection on a pane of uneven glass in a door.) at first i wasn't sure if i was happy with my choice, but as i've worn them i think i've decided they were a decent choice. i've been wearing them pretty consistently for about a week now.
when i first put them on, it was weird. the previous glasses i'd had (8+ years ago) were pretty weak, so they really just focused things more than anything. these are a little stronger, so my depth perception felt about half an inch off when reaching for things, and when moving my head back and forth i felt like i was looking through fun house mirrors. (or that effect on tv they use when someone is drugged or drunk and things are moving out of proportion and bending and stuff.) when looking through the lenses some inches from my face, the right one bends the image about 3 degrees counterclockwise. the left one just seems to magnify. i'm guessing this is compensation for the astigmatism. now that i've been wearing them for a week, they don't feel as weird to look through. it's still a bit odd, and my eyes continue to hurt some, but i know they're also still adjusting to looking through the glasses.
i watched my blu-ray copies of hellboy, underworld, and run lola run over the last week. i wasn't too impressed with hellboy. it has some decent stuff in it — i particularly liked the undead wind-up nazi with the arm swords — but overall it felt kind of flat to me. i also never really got into mignola's hellboy comics either. underworld still seemed like a really good movie to me: the plot is interesting, the visuals are nice, the color palette and costumes are nice, the action sequences are pretty good. not perfect, but an enjoyable, satisfying watch. i hadn't seen run lola run in years. it has some really clever cuts and sequences, and some really unique ones too. the idea behind it, the questions it is playing with, are nice too. i did think maybe the third variation deviated rather too wildly from the first two based on the time difference. but still an enjoyable film.
i got the copy of two trilogies i'd ordered on ebay. it's 505 of 1500. the dust jacket has some shelf wear (small nicks and bends, fading or wear along the edges), and it feels like maybe the book was opened to the first few pages and either left open a long time or had the spine pushed to keep it open (though that may just be the binding style, since it's sort of like that on the back side as well), but overall the thing is in really good shape and well worth the approximately $25 i spent on it. (it originally retailed at $80.)
i also used ebay to pick up the 5-issue x-statix presents: dead girl series. all of the comics were in very good shape. the art and story were okay, but i didn't think they were anything spectacular. it's also sort of weird that it didn't seem to be particularly about dead girl. i was never much of a fan of doctor strange, who plays just as prominently as dead girl. but it was nice to see dead girl, u-go girl, and mr. sensitive in something i hadn't already read.
this past saturday or sunday i decided to go to a van's outlet store. i like van's old skool skate shoes. i used to wear them some in college, then i bought a couple of pair a year or so ago (high-tops in college, low-tops now — but same shoe design). it's kind of hard to find unique styles in normal sizes, so i figured their own outlet store would be the place to go. wrong. their selection really wasn't much (if any) better than i could find online. their prices also didn't seem to be better. that being a bust, i went ahead and dropped in a few other outlet stores. what i discovered was that the selection kind of sucks, and the prices aren't that great. i mean, most of the stuff there they already had on clearance sale or whatever in their regular stores before they moved it to the outlets. not that you can't snag a bargain sometimes either if you're not too picky or just happen to chance upon something you love. i don't love shopping enough to go through that over and over for that one good time though.
oh yeah, and i didn't mention that i had to drive way out past beltway 8 on 290 to get to this collection of outlet stores. at approximately 8 mpg, that's quite the un-bargain of a trip considering i came back empty-handed. i guess it's online shopping for me.
sunday i went to einstein bagels with the potts clan for lunch. later, i met sue and the kids at bath and bodyworks in rice village. their website had some candles on sale so i thought i'd try them, but they weren't on sale in the stores. that was another shopping let-down.
sometime this week i went by target to buy some oil for my pickup. (it was nearby.) while there, i ended up buying some holiday oils that were on sale, a 3-pack consisting of: pumpkin spice, apple spice, and tahitian vanilla. two kinds of oil, one trip. now that's more like it.
i also recently bought some superglue and used it and a c-clamp to repair my wooden incense box. it'd been built warped, or warped over time or something, and one glued side had come loose. i put in superglue gel and clamped it down and let it sit for a day or two. almost as good as new…the top doesn't seem to slip on and off quite as easily before, but it's way better than when the box was broken.
remember the speakers i bought my dad for xmas? and one of them didn't work? on jan 3rd i contacted them about it and on jan 4th they told me to ship it back to them for a replacement. i replied that day to ask if they could ship the replacement straight to my dad. on jan 6th they said they could do that but were out of stock, but they should have a shipment of more in a day or so. my dad shipped the speaker back to them on jan 8th. but he didn't realize he needed to put an rma number on the package. so on jan 9th i emailed them and let them know that, along with the tracking number and any other possibly useful info. <sound of crickets> on jan 21st i emailed them again to ask where things stood, and let them know ups showed the package delivered on jan 13th. <more crickets> on jan 28th i went through their website to submit my question about status instead of sending an email. i got a reply back quickly, stating they hadn't processed the returned speaker yet (though it was probably in the warehouse somewhere) but they would ship the replacement the next day. it shipped on the 29th, and has an expected delivery of feb 3rd. so hopefully that'll take care of that, and my dad can listen to his music in stereo finally.