(apologies to the cure.)
a couple of notes about having pictures taken.
first, there is the good result. at chris and mary's new year's party, amanda wanted to get a picture of my 8-bit tie. here it is: TeRRY with an 8-bit tie (the tie comes from thinkgeek)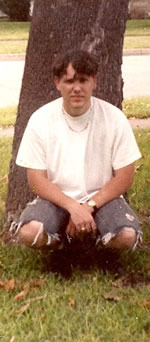 next up we have the bad result. this comes to us from a completely different amanda than the one who recently took the 8-bit pic. back when i was in college, one time while i was at home i decided to cut my hair. at some point afterward, i decided it was new and cool enough that i should take some pictures of myself and send them to various friends. the pictures were taken, developed, picked, and mailed. (as in traditional u.s. post office mail…i used to write real letters on paper back in those days!)
years go by. then a couple of days ago i get an email from amanda (who'd recently caught up with me online and now reads my blog sometimes) with the subject of "who in the heck is this guy?????" there's an attachment. it's a scan of a pic. a pic from years ago. a pic of me.
(as a random aside, tamara used to love the pics taken from that day. she thought i was utterly yummy, and asked me if i thought it were inappropriate if she fantasized about the me from those photos since it was still technically me.)
the only thing i can say in my defense is that i'm very, very happy the scanned image in that email was from those sets of pics and not from some i'd taken maybe a couple of years before that. although this reminds me that those may be floating around out there somewhere in the world — and that, my friends, is a very scary thought.