saturday i finally made up my mind. i stopped by high times and picked up some incense and other stuff. (head shops have really good incense, yo. if you like incense, try one.) but before that, i'd headed to the galleria. i called ahead and the store verified they had them in stock. when i got to the mall, i pulled on to the second floor parking by macy's and sak's and there was a parking spot right by the catwalk. this was when it was verified to me that G-d wanted me to have this. i walked in, said what i wanted, and was out within 20 or 30 minutes. so without further ado: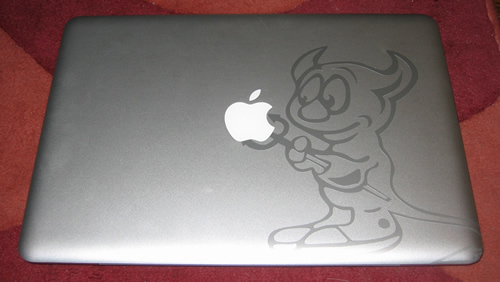 yep, i bought a macbook air. and today i modded it to show off its unix roots (as you can see in the low quality, poorly lit picture above). i also got the ethernet dongle, an apple remote, the superdrive, and applecare. i got an edu discount on everything, so that helped some.
i've yet to really do much with it, but i got it up and configured and downloaded all of the patches for it. it was kind of a hard decision, even though i was pretty sure it would serve my needs well. in the end, it just seemed like a reasonable choice, and dwight's positive experience with his review unit helped seal the deal. so hopefully i'll be happy with it for the next 3 years or so.
later i met up with the potts in hermann park, where they were taking easter pictures of the kids. that was kind of like herding cats. due to some issues, jack ended up taking the kids to eat while sue went with me. we went to chipotle and hung out for awhile, then we came back to my place and she saw the macbook air. we talked for awhile, then i drove her back to her house. we were supposed to all watch snl, but jack had already gone to bed. so sue and i watched the rest of snl and then i headed home.
today i met up with sue at the bopho loft and we went to eat for free at a new chili's. it was their training period because the store was getting ready to open. from there we went by the yankee candle store in rice village. i have evidently successfully managed to lure sue into the yankee candle camp. of course, i couldn't help but buy something while i was there too. i bought two big candles: juicy peach and lemon lavender. i mostly got the lemon lavendar because it was on sale…i'm not sure if i'll like it when it's burning or not. from there we went back to the loft, and i played some with dietrich and calista, plus i had a nice conversation with ryan (who'd come by with sarah.) he's also the one i had a nice conversation with at the house of pies a couple of months ago. he seems like a pretty cool guy.