okay, i got the pic of me (taken by chris) from chris and mary's halloween party. here is a cropped version of it: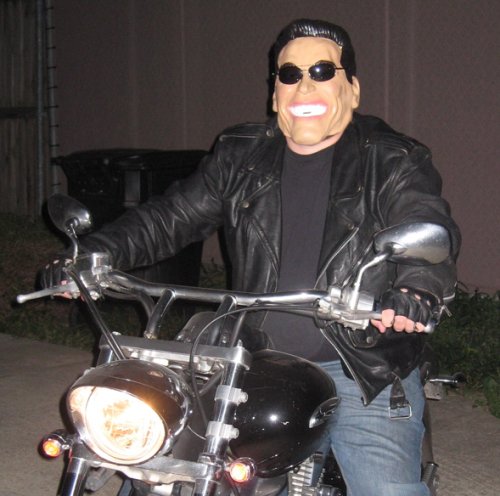 the original can be found
here
.
sunday afternoon was a beautiful day, so i took my motorcycle down memorial and met up with the potts at a tcby. it'd been a long time since i'd been to a tcby. you can taste the yogurtness in the ice cream, although it's good. from there i headed back to the potts house, where i played with the kids in the front yard for probably a couple of hours.
monday after work i helped marty transport a new couch he and christine had bought over to their house. afterward, we all went to the potts house for supper. it'd been awhile since i'd seen marty or christine.
on wednesday, the actual day of halloween, i wore a similar costume to the one i'd worn to the time traveler party — except instead of the arnold mask i wore a skull mask. i wore it around work, then i actually wore it while riding my motorcycle around in the evening and night. (and i got my fair share of stares and double-takes.) it was somewhat hard to see out of, particularly when going 30+ mph — but it's worth risking an accident and possible death for something that looks cool. i didn't really mean for it to be ghost rider, but that's what most people thought of. i usually offered that later i was planning on dousing my head with gasoline and lighting a match, but everyone needed to be there to see it and take pictures…seeing as i could only do it once.
here is one (cropped) pic of me from that evening: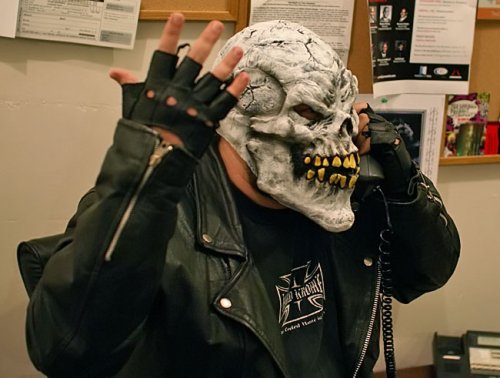 if you'd like to see the original version, along with a couple more pics jay took at the radio show that evening (plus his humorous storyline to go along with the pics) — head
here
to jay's blog.
halloween night i dropped by border's and used a coupon to get something, plus i got something else that was on sale…
* with the lights out – nirvana (dgc)
* better off dead – john cusack (paramount)
this evening after work i met up with jack and emily at pei wei, then i went over to jack's office and reconfigured his network. i added in a new router he'd bought and modified his apple airport express stations. hopefully all is good there now.