in case you didn't know it, Texas has a yom (year of manufacture) law. what that means is that if you have a vehicle older than 25 years, you can find Texas plates from that year and use them on your vehicle instead of the current plates.
after a few weeks of poking around on ebay and watching 1965 Texas plates sell, i finally managed to get a pair at a price i thought was only somewhat higher than i should be able to get them for. (of course, others sold for higher — so maybe my idea of what i should be able to get them for is off.) anyway, i got them in the mail a week or two after the auction ended. i didn't buy unused ones, but these are in pretty good shape. (a cool thing about pre-1969 plates is they aren't reflectorized, so you can strip and repaint them fairly easily — which i may do at some point.)
a few days later i took them down to the local tax office so the dmv could approve them (the condition, and that no one currently has the same plate id). that all went well, so i now have them on my '65 ford f-100 instead of the generic modern plates.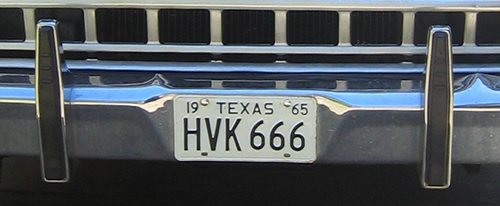 it'd be cool if my plates were "HaVoK 666", but i manipulated the plate a bit in fireworks. still, it's pretty cool to have 1965 plates on my pickup, and it's a license i can remember pretty easily.