that's how it started. i was planning on leaving work at 2pm, but i didn't walk out of the building until 3pm. i was planning on leaving by 3pm, but i didn't drive away from my house until 5pm. then a few miles from my house, in traffic, it started to rain. then traffic really slowed down. fortunately, i had skipped taking the motorcycle and picked the bel-air (even though i didn't know about the rain, and the gas cost would be much more). it took me about 2 hours to get from my house to katy. to katy! grr.
where was i headed on a wednesday evening? austin. why? the devil makes three was playing stubb's bbq, and i'd been wanting to see them since i'd first started listening to them 5 years ago. (they're from california.) i'd bought the re-release of their first album a month or two ago, and let chris from work listen to it. he liked it, checked them out online, and noticed they were going to be on tour and were supposed to play austin. and things worked out so i could go. what about the radio show? it was pre-empted for the democractic national convention.
i was running way late, so i didn't get to stroll leisurely into austin and hang out at the hotel, then meet my brother for supper or anything. i pretty much showed up at the hotel, checked in, dropped my stuff off, and went to meet my brother at stubb's. i did pause long enough to take a picture of downtown austin from my hotel room...

i'd decided to spend a little extra and get a hotel room with a view. before i left my house, i'd searched and booked online. i was on the 15th floor of the hilton garden innn downtown austin, which is at 6th street and i-35. in the pic you can see the state capitol building, and to the right the red/orange light is the t.u. tower. from the hotel, it was about a 4 block walk to stubb's.
i got there and found my brother. it was about an hour or so before the devil makes three started playing. it was a decent crowd, and a number of people seemed to know at least some of the songs. (on a sidenote, there are so many more interesting people in austin.) their live show wasn't incredible (like the last show i saw at stubb's, which was 16 horsepower back in 2002 or so), but it was really good -- they sounded good and were fun to watch. near the end i tried taking a few pics with my iphone. it was dark and they were moving alot, but here's one just to show i was there...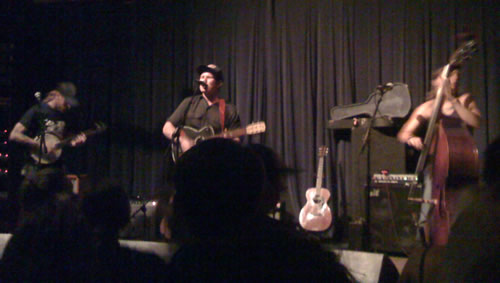 the show ended, my brother hung out a little then left (he had to get up at 6am), then i talked to cooper for awhile. i didn't buy any merch since i already had everything they had for sale that i want. i had thought about eating, since i hadn't eaten since lunch, but i didn't know where to walk to (i'd valeted my car at the hotel and didn't feel like getting it, even though they'd let me park right by the entrance in an isolated 15 min spot) so i just went back to the hotel room. i thought i'd go to the vending machine, but it was just sodas. i did manage to find a couple of complimentary chocolates from the hotel, so that's what i had for supper. i watched some tv and went to bed.
in the morning i got up and took a shower, then plugged my ipod into the aux input on the room's radio/alarm and listened to bob wills while i drank some coffee and sat in the chair looking out the window...

...contemplating life and such. i finished packing and checked out. i was thinking about eating somewhere, but i needed to get back to houston. i dropped some stuff off at my brother's place and hit the road. i got back to houston around 2:30pm and was at work by about 2:45pm.
i wish i could have enjoyed austin more while i was there, since i think it's a great town. but i had a purpose and i only planned to be there a short time. and now i can say i saw the devil makes three live.