« September 2007 | Main | November 2007 »
October 31, 2007
microsoft's new hospital software! (possible scoop!)
i don't know if you saw the news on this in the last couple of days:
"Microsoft Acquires Hospital IT Software From GCS" -- InformationWeek
computer business review announced "Microsoft plans hospital software rollout after GCS buy"
and internetnews.com ran an article with the headline: "Welcome to Microsoft Medical Center"
something seemed unofficial about the name "microsoft medical center" to me though. a bit of sleuthing around online and a healthy dose of google-fu and i somehow managed to run across the splash screen of microsoft's new hospital software. i'm not sure this has been actually released to the public, so i may have a scoop on my hands! without further ado, here it is: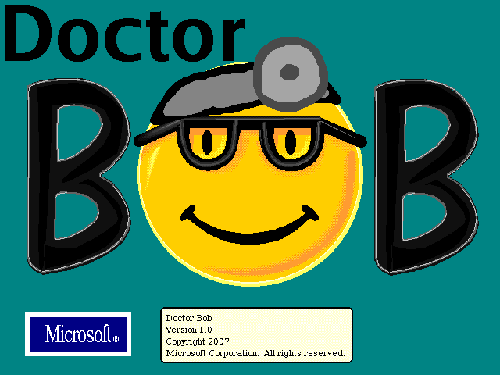 Posted by TeRRY at 10:24 AM | Comments (0)
October 28, 2007
"don't complicate it. your number one strength is you have a car you can provide." --dignan
in case you didn't know it, Texas has a yom (year of manufacture) law. what that means is that if you have a vehicle older than 25 years, you can find Texas plates from that year and use them on your vehicle instead of the current plates.
after a few weeks of poking around on ebay and watching 1965 Texas plates sell, i finally managed to get a pair at a price i thought was only somewhat higher than i should be able to get them for. (of course, others sold for higher -- so maybe my idea of what i should be able to get them for is off.) anyway, i got them in the mail a week or two after the auction ended. i didn't buy unused ones, but these are in pretty good shape. (a cool thing about pre-1969 plates is they aren't reflectorized, so you can strip and repaint them fairly easily -- which i may do at some point.)
a few days later i took them down to the local tax office so the dmv could approve them (the condition, and that no one currently has the same plate id). that all went well, so i now have them on my '65 ford f-100 instead of the generic modern plates.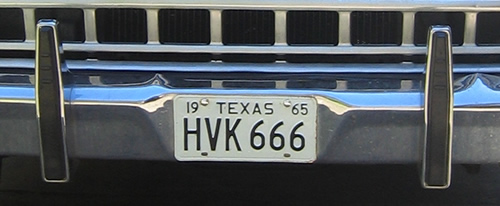 it'd be cool if my plates were "HaVoK 666", but i manipulated the plate a bit in fireworks. still, it's pretty cool to have 1965 plates on my pickup, and it's a license i can remember pretty easily.
Posted by TeRRY at 9:05 PM | Comments (4)
"your clothes - give them to me. now." --terminator
monday after work i headed over to border's to pick up some things that were on sale. here's what i ended up getting:
* airplane! ("don't call me shirley!" edition) - zucker/abrahams/zucker (paramount)
* anchorman (unrated edition) - will ferrell (dreamworks)
* (national lampoon's) animal house (double secret probation edition) - landis, belushi (universal)
* fargo (special edition) - coen brothers (mgm)
all movies i've been meaning to buy, but just never got around to doing it. pretty cheap prices on all of them made me decide to go ahead.
* comfort eagle - cake (columbia)
* pressure chief - cake (columbia)
i think that finishes off the cake cds i wasn't in possession of.
after my purchase i headed over to crescent city beignets and read for awhile.
wednesday was the first of three fundraiser shows for the radio show. jay was out, and he and peter usually do the major pledge pitching, so it was up to barrett, dwight, and i to pick up some slack. i'm happy to say i think we did a good job, and we managed to go over our goal for the evening. yea! now next week we can go back to letting jay and peter do most of the pitching. : )
saturday night was chris and mary's "time traveler" themed halloween party. originally it was dr. who based only, but that quickly expanded. i had mulled several possibilities: 12 monkeys, planet of the apes, 2001: a space odyssey, etc. i went to a few places and wasn't satisfied with any of the outfits. mostly i didn't want to wear a thin nylon drape of fabric as a costume. so at a target -- which only had a few things left -- i ran across a "politician" mask, which was supposed to be arnold schwarzenegger. and just like that, there it was...terminator. you see, it really doesn't take much work for me to go as the terminator...i already have the outfit. leather jacket? check. black t-shirt? check. big black boots? check. dark shades? check. motorcycle? check. guns? check. i don't have a pistol-grip shotgun, but we joked that i would have gotten stopped by the police driving down the street on my motorcycle with a shotgun -- and when they came up and asked what the heck i was doing i would turn and look at them and after a few seconds go: "fsck you, 4sshole." (that'll make sense if you've seen the movie.) then we joked i'd be calling from jail for bail money, after getting tazed and/or shot. i wore the mask most of the time for the first half of the party and didn't talk much at all...but that full head mask was freakin' hot.
unfortunately, i didn't find sarah connor. hhmmm...come to think of it, perhaps i should have gone as kyle reese instead...
Posted by TeRRY at 1:30 PM | Comments (2)
October 21, 2007
whatcha doin', TeRRY? (part 2)
thursday around 10pm brad texted me to see if i wanted to go to the continental club with him. i wasn't too excited about the band playing, but i told him i'd ride with him and i'd eat at tacos-a-go-go or something. we met in front of poison girl, but decided to just go straight over then instead of going into poison girl. we got over to main and tacos-a-go-go and sig's were closed. stupid weekday hours. so instead we went into the big top and listened to umbrella man some. they were intriguing. several people have told me i need to see them, but i don't think i'd ever managed to do it. one of their normal guys was playing for billy joe shaver, but i liked what i heard. they were doing old western swing, old country, and tejano music. what a great mix! after an hour or two at the big top, we rode over to poison girl. we sat there for an hour or two and talked. later the tamale guy dropped by and we bought a dozen. man, those tamales are good. plus i hadn't eaten since lunch and i had been drinking for two or three hours. (i know those are not good conditions for accurately judging tamales, but i've had them under more normal conditions as well and they were still good.) we left around 2am. i hit the bed around 3am.
the reason i was able to go out late on a thursday night without worrying about work the next morning is because i was coming in late since i was working friday night. except then my boss called me twice in the morning, around 9am and again around 9:30am. argh! so since i was awake anyway, i went ahead and went in. i had thought i would be done with work by 9pm or 10pm, but i ended up staying until about 11:30pm. i left and headed over to west alabama ice house for robb zipp's 30th birthday festivities, but by the time i got there he was gone. so i bought a beer and sat down and tried to figure out what if anything i was going to do with the rest of the night. after about 20 minutes of sitting there never saying a word to anyone, a couple of guys rode up on bikes and one of them had recently done some work on his bike and had some bolts come loose on him. we talked for awhile, and eventually i went to the house and got a couple of pair of pliers for him to try and tighten the bolts with. we talked some more and traded cards. (turns out one of them knew barrett pretty well.) so even though it started off sucking, it ended on a good note.
saturday i got up and got a text message from brad asking if i was interested in having brunch with him. we met at an ihop near washington and i-10, then afterward we went riding up and down memorial and allen parkway. man, the weather has been awesome for riding most of the last couple of weeks.
i had been thinking about going to oni-con, but i never got in touch with barrett, and groovehouse said he was doing stuff in prep for the texans game the next day, so i ended up deciding to not go. sue called to see if i wanted to eat supper and watch the sugarland town square movie, but when i checked their website the movie wasn't that night. soon after getting off the phone with her, amateria texted me about "astronomy day". after her telling me about it, i thought sue might think her kids would enjoy going to that, so i called her and mentioned it. she was down with it, so i went over to their house and we went to the george observatory, located in brazos bend state park. it was pretty cool, but there were a lot of people there so i didn't really do much looking through the telescopes or anything. it'd be cool to go back there sometime when there aren't huge crowds. afterward, we went back to their house and watched snl.
when i went to leave, my headlight on my motorcycle didn't come on. this is the second time that's happened. although the other time was a week or two ago, and it was off for a couple of seconds and then came on by itself. this time it stayed off while i knocked on the headlight housing and moved the handlebars and such. eventually it came on when i honked the horn. i don't know why it's doing that, but i'm way overdue to take the bike in for maintenance work and such anyway, so maybe they can figure it out then.
today i got up and mostly sat around the house. i ended up watching the second half of the texans game. they were doing very poorly but i watched anyway. then in the fourth quarter suddenly the titans weren't doing anything and the texans offense went crazy. they caught up in the last couple of minutes, kicked on onside kick, got it, and drove down and scored to take the lead with less than a minute left! they kicked off to the titans, then the titans drove down and kicked a field goal in the last seconds to win. *sigh* i hate the titans. stupid bud adams.
because i chose to watch the game, i didn't make it to kymberlie's pre-activity dinner at lupe tortilla. instead i ended up meeting them at verizon wireless theater. tonight was the final bout of the 2007 houston roller derby season. i did manage to see robb zipp during halftime and wish him a happy birthday. as usual, there were lots of cool looking alt girls. one girl in particular stood out -- beautiful eyes, beautiful smile, beautiful body, beautiful thin gold wedding band. oh well, you lose some, you lose some more. that just means there's still more money for me to use on weapons and vehicles, i guess.
Posted by TeRRY at 11:41 PM | Comments (0)
whatcha doin', TeRRY? (part 1)
the friday before last after work i was supposed to drop by a happy hour being put together by luis, but it was a maintenance friday and i was supposed to work so i decided to skip the happy hour and just head over to the data center. plus it was at taco milagro, and it's a bit too busy and trendy for me, so that didn't help. but i had originally planned to go. oh well.
last saturday i slept in. i went over to jenni's noodle house and had a late lunch. that evening i went over to the bopho studio and ate supper with the potts. i don't really remember anything else, so hopefully it wasn't anything too exciting. i'd hate to forget something exciting i did.
last sunday i slept in, then went with the potts clan to target where they were picking up some food items. but i finally got hold of a floor fan! yea! although it's plastic and i was hoping for metal...but i was desperate at this point. hopefully it will function well. from there we headed over to the bopho studio for lunch. i hung out there until they were going to leave for first baptist.
once i got home, i headed over to border's to use a coupon i had. while there, i also noticed they had a dvd version of a movie i only have on vhs, so i went ahead and picked it up too.
* brazil (3-disc set) - terry gilliam (criterion)
* night of the living dead - george romero (20th century fox)
i already had the single disc criterion version of brazil, but i really like the movie and wanted to own the material on the other two discs of the three disc set. when i saw the night... dvd, it was marked down to $9.99. i picked it up, but then noticed it was a colorized version. bleck. but before i set it back down, i looked on the back and saw it also said it had a remastered black and white version. so i decided to get it. i'm not a huge horror fan, but night... is one of the early films for the style in that genre, and it's kind of campy too, so i like it. the best part was when i got up to the register it mis-rang, and after rescanning it and the same price popped up she gave it to me for the price it rang up at. (i think it was at 99% off.)
also, while looking at the border's email with the coupon i was using, i'd noticed they had a couple of books i was interested in on a "buy one, get a second at half price" list. it took me a while to find both of them, so i ended up finding another book i was interested in as well...
* the language of G-d - francis s. collins (free press)
* velvet elvis: repainting the christian faith - rob bell (zondervan)
* light from the christian east: an introduction to the orthodox tradition - james r. payton, jr. (ivp academic)
an hour or two later, the potts called to let me know they were going for supper, so i joined them at cain's. from there i met up with luis and a friend of his at buffalo wild wings on gray in midtown.
monday evening i went to bohemian photography for jackson and dietrich's birthday party. i tend to get blamed for riling kids up, just because i'll joke around and play with them and chase them and they'll start screaming. is that really my fault? : ) parties are also a chance for me to have to try and avoid people taking crowd pictures. i had to work late so i didn't get to get them birthday gifts. (but i took care of that after work thursday.)
after the party was over i decided to work on jack's non-working vonage device. i was in the back room on the phone with their support but i lost the call. i went out and jack had disappeared downstairs and sue was the only one upstairs. i went back into the back room and messed with it some more. when i came out the next time, sue was gone, all the lights were off, and emily was asleep on the couch. i looked around for awhile, then decided...i'd just leave...i guess. evidently jack crashed downstairs, the kids crashed downstairs, emily crashed upstairs, and i was left behind.
tuesday after work i went back to border's to use a coupon. i had a "get a single cd for $11.99 (limit 3)". i decided i'd try to pick up 3 cds i'd like to have, but never feel strongly enough about to buy when i'm at the store. i knocked through several selections they didn't have or were only $12 or $13 anyway, and eventually (after looking around for a pretty long time) ended up with these:
* white blood cells - the white stripes (third man records / sheridan square records)
* dark side of the moon - pink floyd (capitol)
* the singles - the clash (epic / legacy / sony bmg)
* b-sides and rarities - cake (upbeat records)
you might notice that's four. the cake cd was $10 and i hadn't seen it before. cake has decided to start their own label and release independently. this cd is scratch and sniff. i didn't know it at the time, but there are four different covers. i ended up getting the purple (grape) one. there's also a hidden gasoline scent under the clear cd tray. i'll probably be buying more of the white stripes. i'm not a big fan of pink floyd, but dark side of the moon is a great album. (and the wall is pretty good too.)
at some point i joined linkedin. it's a networking site, but is geared at business people and professionals. i'd thought about joining for awhile, but never had gotten around to it. someone invited me, so i decided i might as well.
Posted by TeRRY at 10:33 PM | Comments (0)
October 18, 2007
i'm even a failure in my dreams. in my dreams!
this morning i had a really cool thing appear in a dream. i was at a bar or something, sitting at a table on those high barstools, talking to some guy about troubleshooting dsl/cable modems i think. a girl came up and sat on the stool right next to me and was happy and joking and loud and flirting with me. the guy i was talking to either knew her and didn't like her, or was annoyed by her, but i was attracted to her and enjoying her being beside me. she was a white girl, probably mid- to late-20's, blonde wavy hair cut in kind of a long bob, wearing i think a red shoulderless dress with a v neckline...sort of marilyn monroe-ish overall (but not any person i recognized). but the coolest thing was her lipstick. i'm not sure i've ever seen this, but she had bright red lipstick with a thick gunky white liner on the outside rim and the white had big pieces of glitter on it. it rocked! i wanted to kiss her, but just as the scenario would play out in real life, i got frustrated that i wasn't going to do anything so i got up and left.
when i woke up, all i could think of is how i bet it tasted like peppermint. man, that would have been awesome. why couldn't the dream-me be more assertive and forward than the real me, dang it! now i'll never know. unless i force myself to dream about her again, and make a move this time. but that would just be weird and creepy and very loserish.
so if i do it, i'm not blogging about it. : )
Posted by TeRRY at 10:00 PM | Comments (2)
October 17, 2007
must i [biggiesize]? (it's safe and natural!)
if you'll recall, a while back i posted how some folk who apparently cared a great deal about my personal mental health and well-being -- as well as my success and happiness in life -- were letting me on the secret to unlocking such things -- by increasing the size of my...male organ. eventually they got a little frightening with their claims, so i decided to politely pass on their wonder-product.
recently, i've been getting a new series of messages from some more caring folk. i'm a little confused about exactly how to take what they appear to be trying to tell me though...
Subject: Are you satisfied with the size of your breasts?


Increasing your breast size can improve your life, attract new partners, change your love life, inrease your self-esteem. Choose the best breast enhancer [biggiesize], as it is safe and natural.

High level of service. Your order will be packed discreetly without revealing of content details. Fast shipping!

[biggiesize] is the unique chance to return your womanhood!
(product name changed by me, by the way -- but the sentiment of the original was similar)
am i "satisfied with the size of [my] breasts"? why are they asking me this? i must admit, i can see how that would attract new partners and change my love life! i'm not sure about increasing my self-esteem though. and i don't even know what "return your womanhood" means. was it stolen from me? did my parents not tell me something? at least i can rest assured it would be packed discreetly.
then i got this one:
Subject: Have beautiful breasts you have always dreamed of.


If you don't want to have potentially dangerous surgery while creams and pumps don't work, take the benefits of natural herbal capsules [biggiesize] to obtain your goal breast size. The results are permanent and really amazing.

[...] Your order will be shipped with no indication as to the content to ensure your privacy. Full confidentiality!

Improve the size and shape of your breasts and surprise your partner.
okay, so it's true i dream of beautiful breasts. but i think they got confused about one thing -- the ones i'm dreaming of...they're NOT MINE! i'm sure the results would be amazing though...in a number of ways. the permanent part doesn't make me feel any better about it. and if i had a partner, i have little doubt she would be surprised. and again, they make sure and let me know everything would be completely confidential and private.
then this one comes into my inbox:
Subject: Start a new life with beautiful large and firm breasts!


Embarrassment of small breasts and low self-esteem are buried in the past for those who have discovered a natural breast enhancement [biggiesize]. Herbal capsules are safe for your health and even improve it by removing blockage of veins, for example. It has no side effects.

We ship worldwide in safe and discreet wrapping.

[biggiesize] is a "little secret" of your life success.
again with the discreet packaging! "no side effects"? "start a new life"? "LITTLE SECRET"?! i'm going to go crawl into a corner and curl up in a ball and rock back and forth for awhile now.
Posted by TeRRY at 11:07 PM | Comments (4)
October 14, 2007
happy belated 4th affair anniversary to me
well, well. it appears my fourth affair anniversary came and went without my realizing the significance of the day. (my "affair anniversary" being the day tamara tabo (my ex-wife) told me she was having an affair with alistair isaac.) i just realized yesterday that it was mid-october and thus the day had already passed! it is kind of funny i wrote an entry near the anniversary date and mentioned her and the affair, but didn't realize what day it was. perhaps this is a good sign for my future mental well-being?
fear not though, reader! i have two versions of the 3rd affair anniversary entry from a year ago which i never posted. now that all legal and monetary obligations of the affair have been resolved for over six months, i feel able to make the historical posts available. (at the time i didn't want to jinx what appeared to be a rapidly approaching conclusion to all of the divorce-related issues.)
the two unposted entries were composed of an original entry, then an entry i self-edited in an attempt to avoid anyone complaining about the content of the first. i had prepended the self-edit with this:
[i went ahead and self-edited this entry before anyone had to complain and tell me they were upset about it. i've still got so much i could say, several of which i already removed...]
but as you can see from the archives for october 11th last year (2006), i ended up posting neither and just went with a "placeholder" which included an excerpt from an earlier affair anniversary post. i did mention i was planning on posting a follow-up entry once the divorce-related stuff was over.
today -- over a year later -- is the day.
below i have combined the two drafts into one, trying to show the full emotion of the first, but without maybe quite all of the acidic tone that was originally there. and still self-editing some of the revelations about the goings on with tamara and/or alistair. as much as i'd still like to lay it all bare, it just doesn't feel right on some level. it's the truth, and it hurt me -- and screwed up a lot of stuff for tamara, me, and the divorce proceedings -- but i'm not sure putting it out there would do much except make me feel better, like at least the truth was known. i'm not sure that's a good enough reason on some of it.
i must say it is rather odd to go back and read this, as right now, today, i don't have much of the zeal about the topic that i did when i wrote the stuff to follow. but what happened happened, and it is still what i felt at that point in time. perhaps it reflects poorly on me. perhaps it is irrelevant. whatever the case, it was where i was at and it is what i wrote, so here it is...

------------< originally from october 11th, 2006 >---------------
yes, it's that time -- the third anniversary of tamara tabo (my ex-wife) telling me she was having an affair with alistair isaac.
this anniversary appears to be a time of endings and partings: me and my retirement money (if her lazy attorney's office can get around to shuffling a few papers...is that the sound of extra dollars they're listening for?); me and the house (which should be selling on oct 16th, with me moving out by oct 23rd); alistair and his money (i think tamara ended up taking more from him than me, from what i've heard); and alistair and tamara (from what i hear through multiple sources).
i must admit aspects of their troubles have made my day on numerous occasions. (although i maintain feeling sorry for tamara...silly me.) one of the few true comments tamara made during those trying times after the affair was exposed was that she was fscked up, alistair was fscked up, and they were in a fscked up relationship -- and that there was no way their relationship was good or would last. not that such a comment made me feel better about her having an affair, of course. but with a relationship founded on an affair, secrecy, emotional trauma, and perpetuated lies to family members, is it any surprise it would end? perhaps they both got what they needed from it though -- [10.13.2007 -- some true but mean stuff deleted]. but both only for a season. neither what they actually needed, and the loss of important things on boths sides in the end. (this is all based on what i've heard, but it makes me feel better to believe it.)
but yeah, it was three years ago today that she finally felt so sorry for what she was doing to me that she admitted she was having an affair.
i was at work, at my desk, on the phone with her when she told me. i'd missed the last bus home because i was talking to her about how she'd been treating me and what was going on. i needed to decide if i was going to ride local routes or if i wanted her to pick me up. for the life of me, i couldn't decide. it's hard to explain the gravity i felt was attached to that decision -- to every decision -- at the time. i just wanted things to stabilize, to get better. but they weren't, and i didn't know what to do. i was literally at the point of tears trying to figure out if she should come to pick me up or not. so eventually she asked me why i was doing this to myself. and i said "because i don't have a choice." she said i did. which confused me, so i said "no i don't. i made my choice when i married you. i don't have a choice." and she said "terry, yes you do. because...i've been having an affair."
i have no idea how to express how it felt to hear her say that. to hear the person i'd put all of my faith in, put my life in, who i'd suffered for and with trying to work toward a better future, who my whole world was intimately tied to, who had told me she loved me, who'd told me so much...and while i was trying to figure out for the life of me what i could do to maybe pull our unravelling life back together, to have that person be having a relationship and sex with someone behind my back. i had put my complete trust in her, i had given her my heart and soul, and she was scheming to leave me while fscking some [10.13.2007 -- true but mean stuff deleted] behind my back.
something that seemed odd during those days was that tamara got really upset when i railed on alistair's dad and his fake, social christianity -- displayed in his flaunting his son's adulterous situation at fancy dinners, and taking them to church with him. she said to leave him out of it, and that he was a good man. why? how did that make sense? looking back, it's obviously because she and alistair hadn't told him about that little issue of her being married and all. not even separated. i mean, actively sneaking around behind the back of her current spouse (that would be me).
okay, maybe i knew about this one for a long time. you have no idea how close i came numerous times to writing him a letter or calling him up or dropping by his place (since i'd been to his house before). maybe even dropping off a bunch of tamara's stuff she left behind, with our wedding pics and an invitation prominently displayed on top. (man, that would have been sweet.) but i never did. and eventually i heard they told him (months and months later). but i'd bet there are a couple of things he still was never told about.
it's horribly sad, but she didn't have to make the decisions she made. it's hard feeling too much satisfaction over her difficulties -- especially when i think some of her inabilities to cope with life are out of her control in certain respects. but after everything she's done to me and dragged me through it's hard not to feel some sense of justice. i feel like i went so much further than i ever imagined i could in trying to reconcile (and numerous friends -- mutual friends who knew what was going on at the time -- agree with me). but she did make those choices, and so much more over these last three years. and unfortunately for me, i made the decision to emotionally and spiritually tie myself to someone who ended up doing what she did. and i am forever marked by the scars she left when she ripped herself away from me and took off.
[10.13.2007 -- i've chosen to delete a paragraph discussing my perspective on her occupational transitions and how they seem to follow a pattern of increasingly relativistic and morally bankrupt fields. the idea is interesting, and i think there could be truth in it, but the paragraph is generally mean-spirited and i don't see much way to save it from that. my hope, at least when my better self prevails, is that she is better these days.]
[10.13.2007 -- the last couple of paragrahs -- one about the idea of reconciling, the other about forgetting and moving on -- were included in the 3rd anniversary "placeholder" post, so i won't repeat them here]
Posted by TeRRY at 11:50 PM
October 11, 2007
"no, i never gave inez anything" --dignan
the last couple of weeks i've been looking around on ebay motors for a car. last week i spotted one that really caught my eye. it was a black with red interior 1955 chevy bel air 2 door hard top. the "buy it now" price seemed reasonable, but i don't do much purchasing and selling of old vehicles so i wasn't sure. i decided to watch it and see what it did, and make a bid near the end if i could. i called the credit union and got my funding confirmed, called and talked to a guy who buys/sells classics, dropped by the classics place this past weekend, started thinking about how i'd get it and drive it back, etc. the auction end point was this coming sunday around 5pm.
about an hour ago someone did the "buy it now" on it. oh well.
in other failings, i was hoping someone was going to let a domain expire and i could pick it up and bring it back to its glory days, but they re-registered it a day or two before it expired. *sigh*
we're going through some transitions at work. yet another re-organization. i'm cautiously optimistic about what it means for me as far as my responsibilities and assignments. but there are a lot more changes coming, i'm sure. my benefit from that so far is that i'm getting a couple of weeks of training on the ibm aix os. it's one of the bigger unix os platforms that i've pretty much never touched (even as an end user), except for a bit of "testing" a few months ago.
tuesday night i went over to jack's work office and helped him do some stuff with email, voip, and networking. i also discussed the ability to do hard drive copies. after that i talked with him about life and goings on for a couple of hours. i got home and went to bed way too late. especially considering i'd gotten too little sleep the last two nights and was hoping to make some up.
before going to jack's i'd spent an hour or so at crescent city beignets. i finished up the book i'd been reading while there: letters from a skeptic: a son wrestles with his father's questions about christianity by dr. gregory a. boyd and edward k. boyd. it's a series of letters between a father and son, the father being an atheist that grew up in the catholic church and the son becoming a believer in college and now a professor of theology. the letters cover about three years, with the father asking all kinds of questions about christianity and the son replying. in the end, the father ended up becoming a believer.
i found the book to be a very good casual question and response about any number of questions about christianity, faith, world views, etc. i also really liked the way dr. boyd responded to some of the questions. i wouldn't say i'm on board with all of his positions necessarily, but overall i found his comments to be fair, well constructed, and respectful. i especially liked his comments about G-d's omniscience, since his view is pretty similar to mine and he seemed to express it much better than i've ever felt able to. it's good to know there are intelligent, well-spoken believers who have some version of similar belief on that topic.
i haven't had any close relatives who weren't believers so i can't really empathize with the situation, but i kept thinking about tamara and her dad. she became a christian in high school and her father grew up in the catholic church but has been a pretty staunch atheist as long as tamara has been aware of things. she used to really want to be able to have good conversations about her faith with him, and be able to discuss it in ways that would help it make sense to him. after all she's chosen, gone through, and done, i'm not sure where she stands on any of that anymore -- but since i stopped knowing her about the time she threw our life and love away, i can still relate it to how she felt back then. i know how much at the time it would have meant to tamara for something like this to happen between her and her father, so that managed to give the book some emotional punch it wouldn't have had otherwise.
Posted by TeRRY at 8:47 PM | Comments (0)
October 8, 2007
"it's more fun to compute" --kraftwerk
saturday i got up late. i went over to Texas sports and specialty cars (website) near fountain view on 59. i found out they're open by invitation only on saturday, but after standing outside awhile looking at the cars in the showroom, the guy walked out and started talking to me. eventually he took me in and showed me around. they have some incredibly nice vehicles. unfortunately (for me, at least), they also have some very high price tags on the incredibly nice vehicles.
while i was there, sue called to see if i wanted to meet her and the kids at memorial city mall. i drove over there and hung out with them for a few hours. we parted ways and i headed to the gap to look for jeans. i really need some jeans...i have about two decent pair left. the other three or four pair i have are all threadbare to the point they've got holes and you can reach down and rip new ones by hand. i found some at the gap, but then i noticed they were $50. i laughed and put them back.
exiting the gap, i decided i would try and find a nearby computer store so i could buy a new ups. the one on my power mac started beeping incessantly every second or so a few days ago. i found the manual and it said that meant there was an internal ups failure and the solution was to call the manufacturer. since it was over two years old, i knew the only likely solution would be to pay to have it repaired. so instead i went looking for a new one. on the start of my journey, less than a minute into it in fact, i ran into a yankee candle store and they had "buy one, get one free" signs. i was sucked in.
i drove to a compusa, where i learned ups prices seemed much higher than when i last bought one (2.5 to 3 years ago). i headed to fry's, but their prices weren't any better. (in fact, they were the same or higher.) dejected, i half-heartedly stopped by a mcdonald's redbox just to see if knocked up might be available. it wasn't. i headed over to the potts' house, where sue and i watched saturday night live. i also finally talked sue into making butterscotch oatmeal cookies. it didn't take much work, but i did have to mention it several times over a couple of weeks. (just kidding...it was sue's idea to make them. but i did mention it a few times over a couple of weeks.) they're really good.
i drove home and was persuaded by my beeping ups to do some detective work on ups prices online. i eventually noted circuit city had a $50 off rebate on a model, which would make the price of the next lower model. i was excited until i clicked on it and the coupon expired at midnight and it was 2am. i went ahead and called to see if i could order online and slip into the rebate timeframe, but no such luck. for some reason, i couldn't get to sleep when i went to bed and ended up not getting to sleep until around 5am.
i got up sunday around 11am. i registered on yankee candle's website, which got me a $5 off coupon. i then headed to the yankee candle store in rice village. i must confess something here. i need to stop buying scented candles. i don't burn them that often, and in an 8 day period i've bought 6 of them (not including the votive and small ones i bought to give away). granted, every one of them i bought on sale or with a coupon, but still. i'm not a fan of outdoors or musky scents, much preferring foods, fruits, and sweet scents. that said, here's what i bought recently:
cucumber and cantaloupe (yankee candle, medium jar), $5 off
mulberry (colonial candle, large two-wick jar), $5 off
vanilla cupcake (yankee candle, large jar), 25% off
cherry lemonade (yankee candle, large jar), 50% off
spiced cocoa (yankee candle, large jar), 50% off
vanilla lime (yankee candle, large jar), $5 off
i also bought a couple of the ceramic candle shades (buy one, get one free) and one of the metal "illuma-lid" things. in addition to being decorative, they also help minimize wind and thus sooting, plus they retain heat which causes the candle wax to melt and burn more completely. like i said...someone needs to stop me.
anyway, from there i headed to old navy. i found a couple of pairs of jeans i liked there. and at about $26 per pair, they were almost half the price of the others. while there, i also couldn't resist picking up a blue jean jacket. it's been years and years since i had a blue jean jacket. i remember the one i had in fourth grade. i loved it. then one day at recess i took it off to play. about 10 minutes into the next class period, i suddenly realized i didn't have it! i jumped up and told my teacher and she told me i could go outside and see if it was there. it wasn't. i later checked with the principal's office but it was never returned. *wipes tear from eye* i had a levi's one in high school, but in those days who didn't? i remember one time i loaned it to jennifer, and when i got it back a couple of days later it smelled of her perfume. it wasn't upsetting in the least. (awww.) i had it through at least the early years of college as well. i don't remember when it left me. and now i've got another one. who knows if i'll ever wear it?
the next stop was circuit city. the $50 rebate had expired, but the new deal was $30 instant savings. the extra $20 savings would have been nice, but there's something to be said about not having to mail anything in and wait, or pay taxes on the rebate money. (not $20 of something though, unfortunately.) i ended up buying an apc 1500va ups (bx1500lcd). since i only hook the cpu in, i should probably be able to get 2+ hours of backup life from it.
while doing my shopping, i got texted by chris to see if i wanted to go to a show that evening at the meridian. i thought about it and decided it was a good idea. on the way home i stopped by pei wei for my meal of the day, then around 7pm i met chris and some others at sherlock's on west gray. from there we headed over to the meridian, where we caught the applicators (female punk rock from austin), roger miret and the disasters (from agnostic front, old school punk/hardcore), and the horror pops (psychobilly with go-go dancers, originally danish). it was a good show. all the bands were good. the sound was kind of loud, but eventually i won't be able to tell.
after work today, natalie came over and we went by demeris bbq for some food (which was good), then we watched word wars. it'd been awhile since i'd seen natalie, so it was good to see her again. and i'm sure she was glad to see...the movie. ;)
Posted by TeRRY at 11:58 PM | Comments (11)
October 7, 2007
"you're really complicated, aren't you?" --stacy
this past sunday night i was settling down for the night, reading my Texas monthly in bed, when i heard screaming. it was pretty loud, and sounded like a guy and girl. i figured it was a domestic dispute, although loud and/or nearby. i could make out words, but not exactly what was at issue. it kept going for a couple of minutes until a male voice started screaming "help me!" "no! don't!" over and over. i was worried about getting in the middle of some kind of violent dispute, but i finally decided i should try and see what was going on. i jumped up and got dressed, then loaded my kimber .45, put on the safety, and put it in the back of my pants. i walked outside and i could see flashing lights up the street. there were three or more cop cars at the corner, a few houses away. i stood outside for awhile but i never did figure out what was going on.
monday i decided to open up the 20 gig ipod that had been sitting in its box for about a year. i quickly learned my music collection won't come anywhere near fitting on a 20 gig ipod. i guess this'll do for now while i'm still slowly importing my music.
tuesday i went to crescent city beignets and read and had some beignets and cafe au lait. while at the register, i noticed passes for a free screening so i picked one up in case it was interesting.
wednesday after the radio show i went riding with brad and jason. i met them at chuy's (negra modelo), then we went to the flying saucer (young's double chocolate stout), then to la carafe (st. arnold's oktoberfest). it was the first time we'd been out riding together in awhile. it was nice to do it again.
thursday after work i met sue at the angelika and watched the free preview for the pass i'd picked up tuesday at crescent city beignets. (i was originally supposed to watch a movie at home with natalie, but things didn't pan out.) it was for lars and the real girl. it was really good. the story is about a socially awkward fellow who is nice and polite and a good person, but has had a lot of emotional baggage over the years and develops a delusion that an anatomically correct life-like sex doll he buys on the internet is alive. (remember mannequin? yeah, it's nothing like that. as in, it never comes to life.) the movie is funny, touching, and deals with some complex issues in ways you don't realize until later upon thinking about the movie. the acting is really good (appropriate to the movie), and you eventually come to terms with what's going on and accept it. i kept thinking how dumb the movie would seem if someone just walked into the theater, even though the audience is laughing and crying about what's happening. i think i could see comparing it to little miss sunshine in some ways, although it leans a little more serious with a lot of comedy, while ...sunshine leans the other way. both are hilarious, but have great comments to make, and are touching while dealing with people with quirks and problems. oh yeah...the main character works in an i.t. cube farm kind of job, which they portrayed pretty accurately. i.t. people are weird.
after that i dropped sue off at the house of pies because she was meeting brad there, and i went to barnes and noble. i couldn't resist picking up a few things while i was there:
catcher in the rye - j. d. salinger (little, brown and co)
crime and punishment - dostoevsky (everyman's library)
a short history of christianity - stephen tomkins (eerdmans)
(the first two are hardback versions.)
friday after work was the geek gathering at tropioca. we didn't really announce it that well, plus jay is out of town, so the turnout was somewhat low. but it was still a good evening. from there i headed over to leon's lounge for the vinyl ranch night. barrett had also planned to go over there, so i met him and a couple friends. later, when we were leaving, i noticed a motorcycle in front. then i realized it was brad's. i went back inside and found him and kelli, so i hung out for a couple more hours. there was some cool music being played, but the occasional dj tricks on the vinyl was a bit odd to me, and most of the people seemed to be ironic about their appreciation of country. it was somewhat awkward, since i tend to hang out at places where there isn't anything ironic about the clothes they wear or the music they're listening to.
Posted by TeRRY at 11:56 PM | Comments (2)
October 5, 2007
"where's kumar?" --dignan
last wednesday i rode around with brad and kelli. it was the first time i'd seen them in some time (other than the wedding, when i didn't see them much). we started off at poison girl, then we dropped kelli off and brad and i headed to the pearl bar. i'd been wanting to check it out because i'd heard they play old country on wednesday nights, but i wasn't too excited about going by myself. we got there and they had a sign saying they were closed for renovation or whatever. brad suggested we go down washington to a place called the darkhorse tavern. we hung out there for a couple of hours. it was a pretty cool place.
last thursday evening i watched miller's crossing. i'd been planning to watch the movie for some time, as it is a coen brothers film, but had never gotten around to it. it was pretty good, but i'm not a huge fan of the film noir detective/gangster prohibition-era movies so i don't think i was as excited by it as i would have been if i were into those movies.
last friday after work i hung out with chris and mary and a few of their friends at berry hill. afterward, i went back to their place and watched some halo 3. i don't really watch or play any modern games at all, so it was interesting to see the "new" thing in high-quality visuals gaming. i still don't see it entrancing me, but watching it for awhile was cool.
this past saturday i helped a co-worker move some stuff (with my pickup). he took us to eat at outback afterward. then i went and joined sue and the kids at a chick-fil-a on westheimer. originally i was supposed to go and pick up knocked up for us to watch, but i went to four different mcdonald's plus an heb (3 of which i stopped and waited in line at) and couldn't find a copy. eventually i gave up the search and out of desperation (and not wanting to annoy the 10 people now in line behind me by taking forever to pick something) chose beerfest. i mean, i remember the preview looking like it might possibly be funny. i went back to the potts' place and we watched beerfest. it was pretty lame. i mean, even with low expectations it was pretty lame. in fact, there were funny parts in the preview that they evidently couldn't manage to keep in the movie. that's pretty bad.
sunday i ate at goode company bbq. from there i went to home depot, target, and bed bath and beyond looking for a floor fan. but, oddly, i had no luck. a lady at home depot said they were "a seasonal store". uh...we're in houston. what seasons? and it's september. hello? while i was at target i looked at their portable ipod speaker systems. i saw some stuff that looked pretty good but i didn't make any decisions due to prices...i need to do some more research before i drop what they want for them. i thought about buying an led flashlight too while i was out, but i made no decision on that either. what i did end up buying was a new set of bed sheets. which i don't think i can open until my cat dies, since she is using the side of the bed as a scratching post sometimes. *sigh*
Posted by TeRRY at 11:58 PM | Comments (3)
October 3, 2007
citrix ica client 10.6 on linux fedora 7
so you want the latest citrix client on your new fedora 7 box, eh? but the 10.6 citrix ica client wants openmotif 2.2.x. and as of fedora 6, fedora axed openmotif due to licensing requirements, so it's not available. what to do? no need to commit citrixide, i can show you a way! (well, on an x86 32-bit fedora 7 install at least. but i'm sure you're clever and can figure it out for your nifty x86_64 install.)
[1] grab the openmotif rpm for an older fedora version (4, for example)
wget http://download.fedora.redhat.com/pub/fedora/linux/
core/updates/4/i386/openmotif-2.2.3-10.FC4.2.i386.rpm
[2] openmotif has a dependency so it won't install via "yum localinstall blah.rpm" -- so use the rpm command itself with "nodeps"
rpm --nodeps -ivh openmotif-2.2.3-10.FC4.2.i386.rpm
[3] you also need libXp.so.6, and it's availble for fedora 7, so use yum to install it (if you don't have it already)
yum install libXp
if for some reason you need the actual rpm file, you can get it at: http://download.fedora.redhat.com/pub/fedora/linux/
releases/7/Everything/i386/os/Fedora/libXp-1.0.0-8.i386.rpm
[4] now you can install the citrix icaclient 10.6 (get the rpm file from the citrix site, silly)
rpm -ivh ICAClient-10.6-1.i386.rpm
the ica client is installed in /usr/lib/ICAClient
(that means wfcmgr, wfica, and so on are in that dir)
it'll show up in your menu in Applications -> Internet -> Citrix Presentation Server Client
run it, accept the license agreement. now you've got your citrix client.
but wait! there's more! another thing you might want to do:
[5] open your browser and go to your citrix server website. log in.
[6] when it asks what to open launch.ica with, choose /usr/lib/ICAClient/wfica
OR, more cleany,
[5] as root, ln -s /usr/lib/ICAClient/npica.so /usr/lib/mozilla/plugins/
(or put it in your own personal mozilla plugins area if you don't want to do it as root. that would be ~/.mozilla/plugins if you didn't know. create it if it doesn't exist.)
[5a] if you kept selinux active, it will end up complaining later on. if so, do this:
chcon -t textrel_shlib_t /usr/lib/ICAClient/npica.so
[6] restart firefox.
in the address bar, type "about:plugins" and look for the citrix client in the list.
go forth and citrix.
some info taken from:
http://drpixel.tuxfamily.org/index.php?2007/07/07/
74-installation-du-client-citrix-sous-fedora-core-6-et-fedora-7
http://support.citrix.com/forums/thread.jspa?
messageID=597771&fromSearchPage=true&#597771
http://plugindoc.mozdev.org/linux.html
along with other sites, plus my own tinkering.
i claim no responsibility for accidential citrixide that may occur by following these steps, or if your fedora install gets borked, or if your cat gets feline diabetes from this, or whatever else may result. you're a big boy or girl and you chose to run linux. use google yourself, you lazy good-for-nothing freeloader!
Posted by TeRRY at 11:56 PM | Comments (17)